Hi Everyone,
Just a quick update on the market. So tomorrow Bank of Canada is expected to hike another .25 to .50 bps. My guess is .50 bps. If Bank raises its rate by 50 bps tomorrow, prime rates are expected to rise to 6.45 per cent and variable rates will be set about 5.7% and above. We have seen our fair share of rate hikes in 2022.
With those hikes, we are also see a dropping home in prices and in sales.
Basically sales are down 49.4% from same time in 2021. Average days on market is 33. Gone are the days where you listed on a Thursday and it was sold on Monday in MULTIPLES. As you can see in the overview: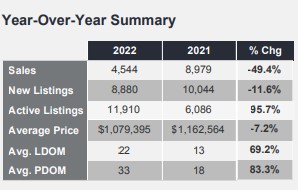 So I have made a few updates to just show you where the market has gone since the peak in February 2022 from Pickering, Clarington, Oshawa and Whitby.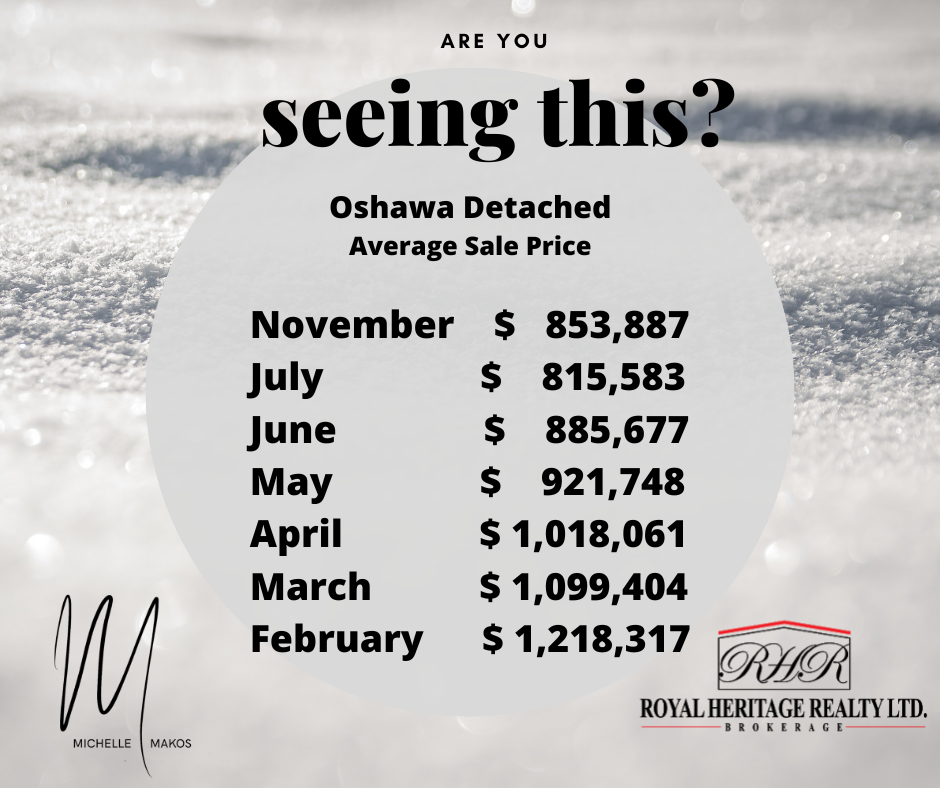 Oshawa took the biggest hit in the beginning but now seems to be holding it's own. Oshawa had 108 detached home sales in November... probably because it is more affordable for most FTHB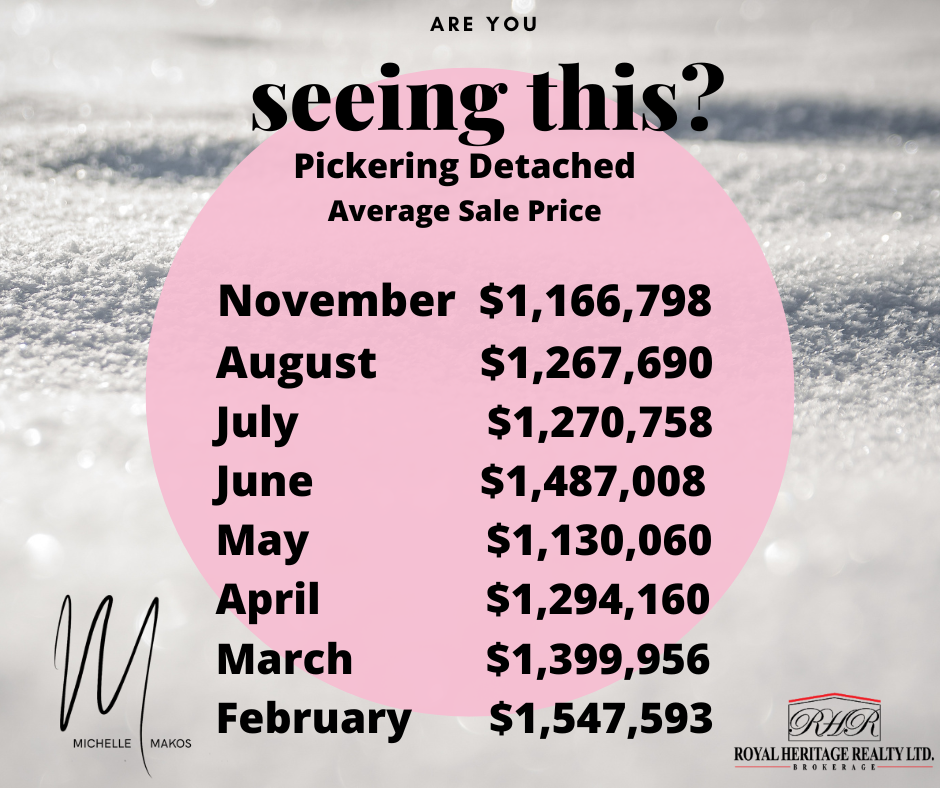 Pickering had 39 Sales in the month of November. 39 That's it... for detached houses. Anything over $1M is now a struggle to move.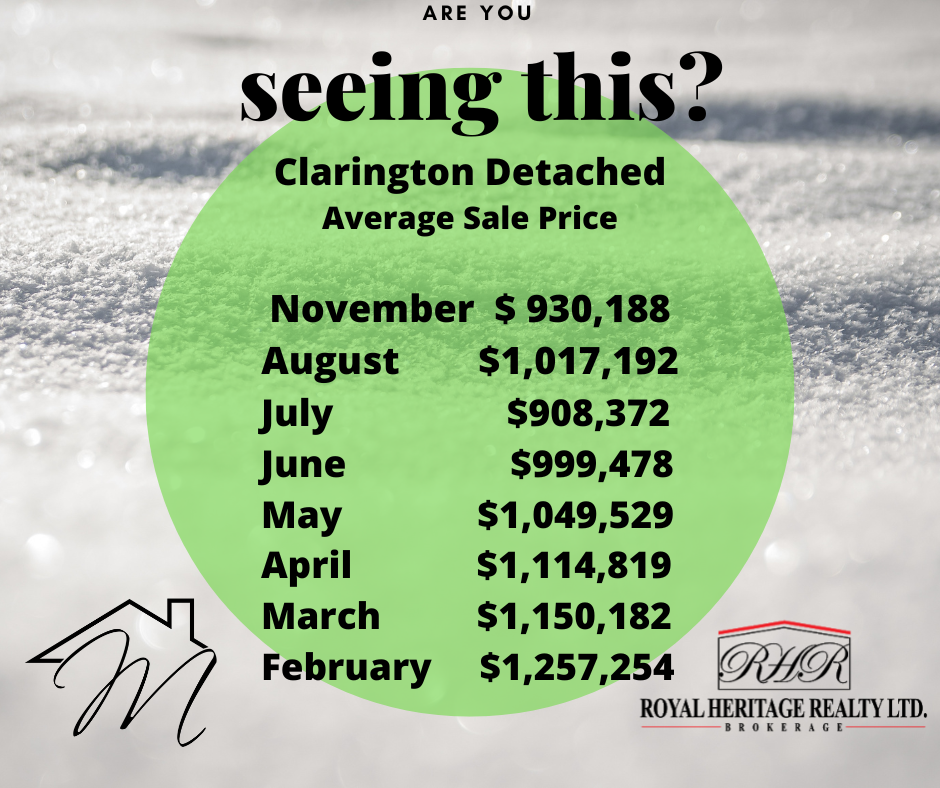 To some, these numbers may be shocking but it is just a direct result of the increases in rates over the course of this year with another one coming tomorrow.
#Ajax
had 48 detached homes sell in November for an Average Price of $1,067,719. That's lower than Pickering and Whitby. In February 2022 it had 95 sales and AV SP of $1,453,308. It is pretty much across Durham the same. Sales way down.
Buyers who want to buy, aren't buying IMO. They are seeing the market prices come down and the rates are going up, so even though it looks good, once they re-do their numbers at these higher rates, they are priced out of what they once qualified for. They all are scared to jump in.
Many people who are thinking on waiting until the Spring to list, may not find the market is better ... but I have no crystal ball.
Many who bought in February, are probably in a house worth less than they paid. As long as they can weather the storm, they will be ok. This can't last forever but it does have the same feeling as 1990. In that case, it took homes 10 to 12 years to rally back. We are headed into uncharted waters here and NO ONE knows what the next 6 months will bring, so stay vigilant with your mortgage payments. If you are on a variable mortgage, be careful. Some of the variable rate mortgage payments are no longer even covering the interest, let alone any principal and when that happens, the bank will call. This is called "Trigger Rate"... So far there are 17% of the variable rate mortgages reaching their trigger rates.
Here is a 416 vs. 905 Chart for November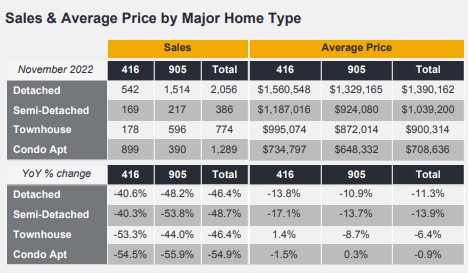 If you have any questions about selling or buying or are looking for a mortgage broker, I have a great bunch of Professionals that I work with across Ontario that can assist you. In these times, you need to work with someone who will protect your best interests.
This month is starting out quiet and December usually is, so after tomorrow's hike, I am hoping they take a break in January or at least only do another small one. We are all getting hit financially ... groceries are up, gas, heating costs, hydro etc and all these added costs are put onto the consumer and homeowners. Always stay up to date with your house value. If you aren't set up to receive neighbourhood sales, let me know your address and I will set you up.
On a side note, I am thrilled to be nominated in Community Votes 2022 for Pickering Realtor. If you happen spare a moment - I would appreciate your support ...
https://pickering.communityvotes.com/2022/08/services/real-estate-agents?fbclid=IwAR2CrS-hmo7aBFPtKplkL2ZE9CP8eF9R4lyRprLj-vCG2R0NlPeFLOfw8V0
Thanks everyone for all your messages and referrals. Each one means something to me. Wishing each and everyone of you a happy Holiday Season.
And on a side note - thank you to everyone who showed up last night at Pickering Council - Vote was 7-0 against the developing the Greenbelt. That's a positive way to end this email :)
Chat soon.
Cheers,
Michelle
Keepin It Real in Real Estate
Enter Blog Post Here