By: Michelle Makos
DECEMBER MARKET REPORT - Unbelievable !!!
Tags: December Market, Real Estate Prices, Oshawa Home Prices, Durham House Prices, Pickering Market, Pickering Homes

First of all, I want to wish everyone a Happy 2021. I hope you are all keeping well and staying safe. Now for the December market report. I am completely shocked at the average sale prices. Ok maybe not shocked but I am just sitting here thinking where and how will this end. If only I had a crystal ball. I am attaching some pics below: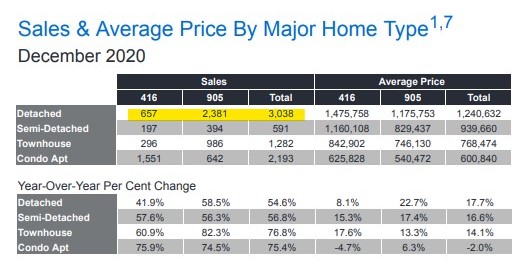 As you can see here the 905 area has quadrupled the 416 area. The sales out here and especially in Durham Region are the highest I have ever seen. This makes March 2017 look like a sale !!! I have attached the average detached home sale price below for December 2020





These numbers are incredible. Oshawa with an average of $723,695, Pickering well over 1.1M an d all the others are at all time highs. Interest rates are at all time lows and this may be fuelling this fire but where will end. EVERY listing is holding offers and getting multiple offers. 10 to 20 is almost the norm now. The competition is fast and furious. Almost ALL offers are firm to even be considered and you can see MOST are all over asking by 10% or higher for the majority.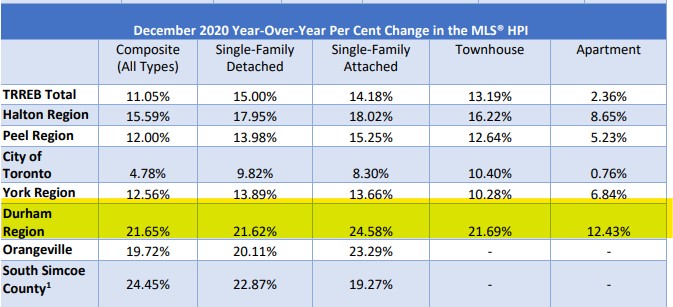 There was one listing in Oshawa last week, listed for 599,900 and sold for 801,000. The listing price means absolutely nothing right now. You need to make sure you work with someone who understands the market and the prices. If you are not, you may be overpaying for something because it is an out of area or out of touch agent. If you are selling, it seems to be the lower the list price, the higher the sale price. How crazy is this going to get. The numbers are through the roof. Basically the average sale price in Durham Region is up at least 25% from last year - MINIMUM.... AND SALES ARE UP 64.5% from the same time last year. Who would have thought a pandemic could cause this?

Is there no concerns of job losses in the future or interest rate hikes? Do people think this will continue throughout 2021 ? I am curious as to your thoughts. Are you thinking on buying an investment property seeing at the rates are low and if you have a property already you will have some good equity in it or are you thinking on downsizing and cashing in? So many things to consider right now?

Next Friday, January 15th I am doing a ZOOM meeting with Barry Baboolal a Durham Mortgage Broker to discuss the market and maybe between all of us we can come up with some ideas and thoughts on this and the lending and real estate market in 2021. If you haven't registered yet: Here is the link to do so:

https://us02web.zoom.us/webinar/register/WN_-9-2xgbMT2StKGo8-zobJw

We would love to hear your thoughts and answer any questions you may have. It will be interesting and casual so you can just listen in or join in and ask your questions.

I hope many of you can tune in and join us. Maybe by then I have looking into the data further and we will find something that makes sense out of all this. In all my years I have never seen increases like this. And if it continues, where does that leave our younger children and grandchildren. With rates this low, some people may also want to look at refinancing their mortgage and Barry can certainly answer some of those questions whether it is worth it or now. So many things to talk about.

Stay safe EVERYONE and as always, never hesitate to reach out if you have a real estate questions or need advice. I am always here to help.

Your Friend in Real Estate,
Michelle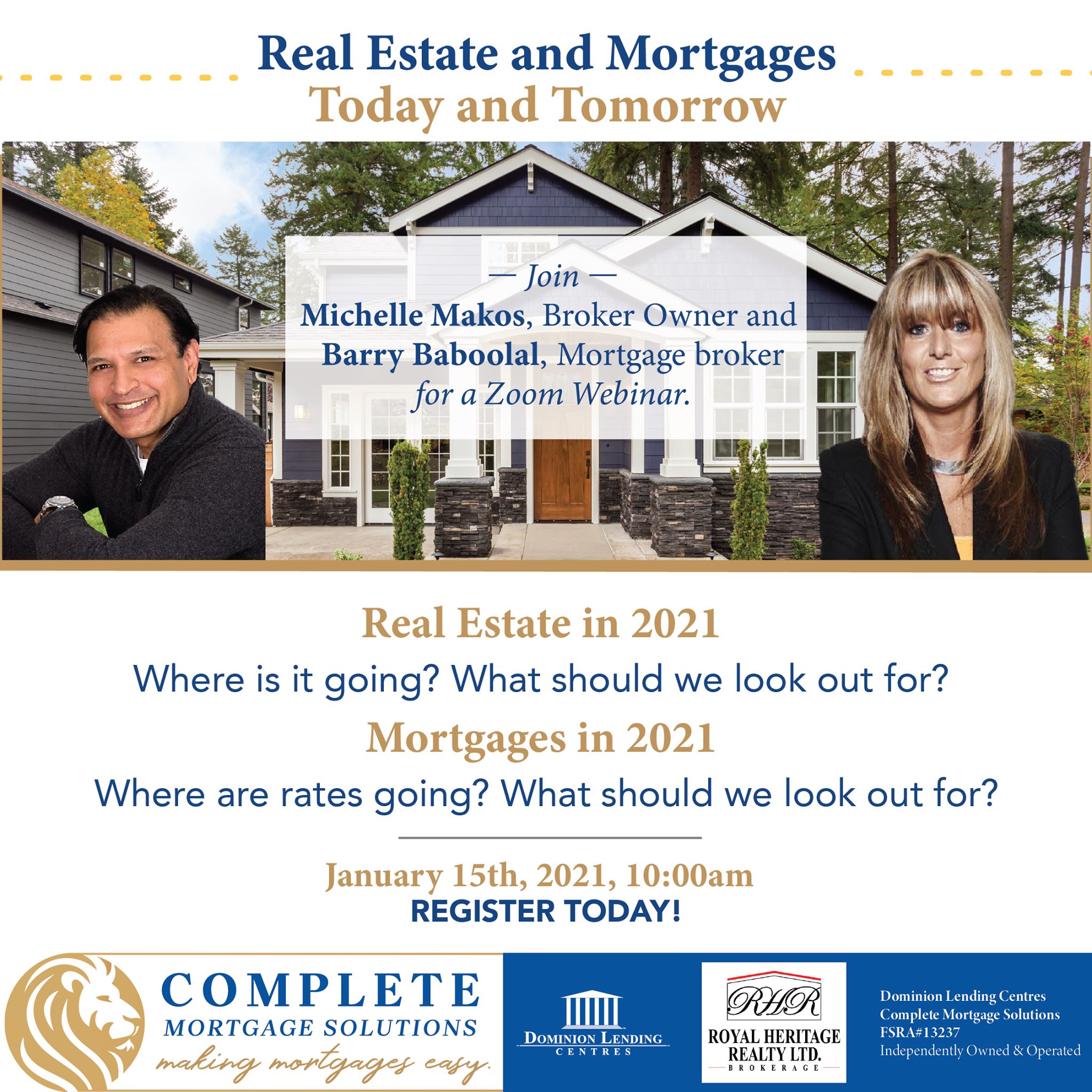 Michelle

Makos

Broker Owner
Royal Heritage Realty Ltd

P:

905-831-2222

M:

416-300-3004

A:

1029 Brock Rd

Suite #200

E:

michelle.makos@rogers.com



Sign up for email notifications when a property in your neighbourhood goes FOR SALE/SOLD - CLICK HERE